Toyota Avensis Coolant Type
---
Select Your Model Year...
Choose the appropriate model year for the Toyota Avensis you are trying to find the coolant type for from the list below.
Toyota Avensis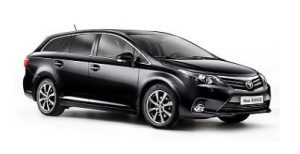 You can find 45 different trims for the Toyota Avensis and their corresponding recommended coolant type.
The years available stretch from 1997 through to 2018 and to view the coolant type and capacity you just click to expand.
The Avensis fist made its debut back in 1996. From there, it remained in the Japanese carmaker's lineup as the large family car offering until its discontinuation in 2018.
The model got its name from the French word 'avancer', which loosely means 'to move forward'. This obviously hints at Toyota's ambition for it to take the role as a prominent model in the future.
Prior to its discontinuation, a total of three generations were released. The latest of these first hit the markets in 2009. Rather than releasing a new generation, Toyota decided to give the Avensis two updates during its final iteration.
The first of these came in 2012, while the second update made its debut in 2015.
It was eventually announced that the latest version of the Toyota Camry would become the successor to the Avensis.
Other competition typically came from the likes of the Kia Optima, Volkswagen Passat, and Honda Accord.
During its time on the market, Toyota offered roughly five trim levels for the model. These consisted of the base Active, followed by the Business Edition, Design, Business Edition Plus, and finally the Excel.
Engines typically included an even spread of both diesel and petrol options. The petrol powertrains usually ranged between a 1.6 L inline-4 and went through to a 2.4 L inline-4, while the diesel counterparts consisted of multiple 2.0 L and 2.2 L inline-4. All of these diesel engines were turbocharged.
While transmissions started with options like a 4-speed automatic, they quickly moved toward more complicated systems like the 6-speed automatics and the CVT found in the final generation.